NDMA Headquarters, Aberdeen, Freetown, 23rd September 2022 – The National Disaster Management Agency (NDMA) through its Directorate of Communications, with support from partners, has commenced a four-day capacity building programme, targeting 320 community volunteers and community stakeholders.

Welcoming the volunteers, the Director of Communications at NDMA, Mohamed L. Bah, said community volunteers/members are the main actors and propellers of disaster risk mitigation because they know their communities better. "Engaging the community people in preparedness activities can increase their capacity level, which will help them minimize the risks within their communities", he added.

Director Bah went on to state that by using indigenous knowledge, NDMA will be able to forecast a disaster and get prepared for it. He noted that because community people know their environments better, they can make better plans to mitigate the probability of disaster.

He pointed out that when communities are involved in disaster management planning processes, they can accept it as their own responsibility.

He concluded by saying that the significance of the community volunteers cannot be overemphasized because in the event of a disaster, the community people are the first responders before even NDMA or other institutions reach the scene.

According to the Deputy Director General of NDMA, John V. Rogers, Section 11, Part III of the NDMA Act of 2020 gives the Agency the mandate to develop the capacity of communities to respond effectively to disasters and emergencies.
"The object for which the Agency was established is to manage disasters and similar emergencies throughout Sierra Leone, and to develop the capacity of communities to respond effectively to disasters and emergencies", the DDG informed.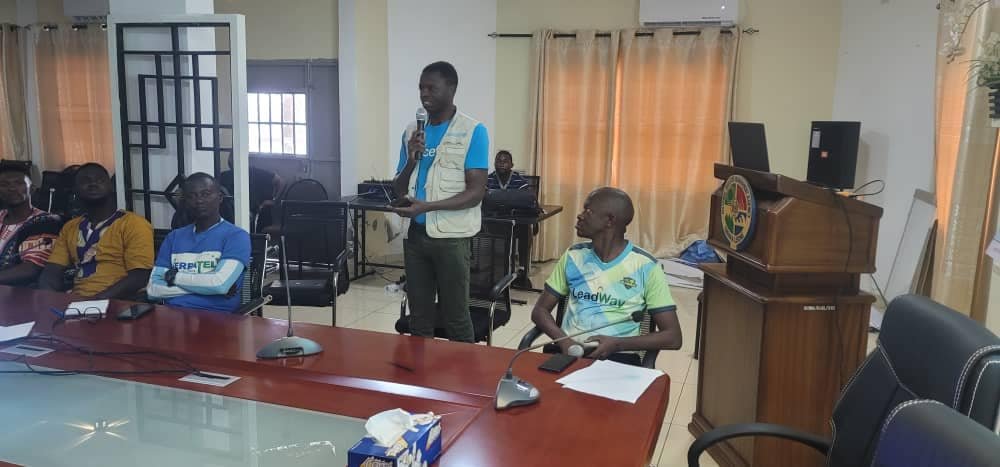 He continued: "We believe that it is far better to spend money on disaster risk reduction and mitigation than on response. The government, through the NDMA has spent a huge amount in response that could have been used for other development purposes. So, averting the occurrence of disasters is a must for all of us".

Representative of one of NDMA's partners, UNICEF, Mr Samuel Sesay thanked the Agency for identifying the volunteers as primary partners in disaster risk reduction in Sierra Leone. He mentioned that his organization, UNICEF, will continue to support state institutions to positively impact vulnerable people, especially children in Sierra Leone.
"The community is the first component to every development. They are actors and recipients of disasters and other problems within their localities. Therefore, they should also be considered as an integral partner in finding solutions in communities", he added.

The training covers topics such as understanding risk, causes and consequences/impacts of flooding, understanding disaster risk terminologies, Early Warning Systems, reporting of hazards by the volunteers, response and understanding of the Multi-Sector Initial Rapid Assessment Tool (MIRA Tool) and the general management of fires.

For More Enquiries:
Directorate of Communications
National Disaster Management Agency
Contact: +23278388946
Email: moahmedlbah@ndma.gov.sl
Website: www.ndma.gov.sl