Bumbuna Town, Tonkolili District, 15 November 2022 – The National Disaster Management Agency (NDMA), with support from the World Bank under the Resilient Urban Sierra Leone Project (RUSLP), has commenced a five-day National Simulation Exercise at the Bumbuna Hydroelectric Power Dam which seeks to promote disaster preparedness by testing policies and plans, standard operating procedures, competent skills and knowledge of local, state and non-state actors in responding to emergencies.

The exercise, which started on the 14th and ends on 19th November 2022 is designed to assess, enhance and evaluate the Agency's preparedness capacity to effectively respond to emergencies whilst strengthening its mechanisms in building a resilient nation.

The objective of RUSLP is to improve integrated urban management, service delivery, and disaster emergency management in Western Area and secondary cities across Sierra Leone.

About 135 stakeholders, drawn from various structures within the district, are participating in the simulation exercise and are expected to acquire practical knowledge and skills that will enable them to function and respond to real-time incidents.

During his presentation on the overview of Sierra Leone's Emergency Preparedness, Response & Recovery Plan and Command Structure, the Deputy Director General of the NDMA, Mr. John Vandy Rogers disclosed that the hazards in Sierra Leone are categorized into Climatic, Geological, Social, Epidemic and Human Induced. He said that floods, wind storms, landslides, mudslides, erosion, deforestation, waste management, the collapse of buildings and depletion of catchment buildings are all major threats affecting communities, citing that the Agency has been very committed to addressing some of these challenges.

"Institutions, communities and individuals generally respond to disasters and emergencies in the way they are trained. This simulation will improve the institutional, community and individual capabilities and capacities to manage disasters and emergencies", he added.

The DDG concluded by admonishing the participants to take the simulation exercise as training that will enable them to mitigate and respond to disasters and emergencies within their communities.

Senior Social Safeguard Specialist at the RUSLP, Mr Isaac T. Lebbie stated that the NDMA is factored in the third component of the Resilient Urban Sierra Leone Project, and will improve and strengthen emergency management through strategic coordination and integrated collaboration.

"The RUSLP will strengthen and improve disaster and emergency management through the coordination of NDMA and the collaboration of community, local, state and non-state actors", Mr. Lebbie informed.
According to the Senior Supervisor and Operator of the Bumbuna Hydroelectric Dam, Mr Ansu Jah, deforestation, farming and mining activities are threats to the infrastructure and pose some risks to lives and properties.

He continued: "Deforestation appears to be a threat we should treat seriously. Some farmers have attempted to clear some portion of farmland on the hillside of the dam to plant their crops. The community authorities and The Water-Shed Management Authority (BWMA) have been very active in protecting the dam from encroachment and other inimical activities".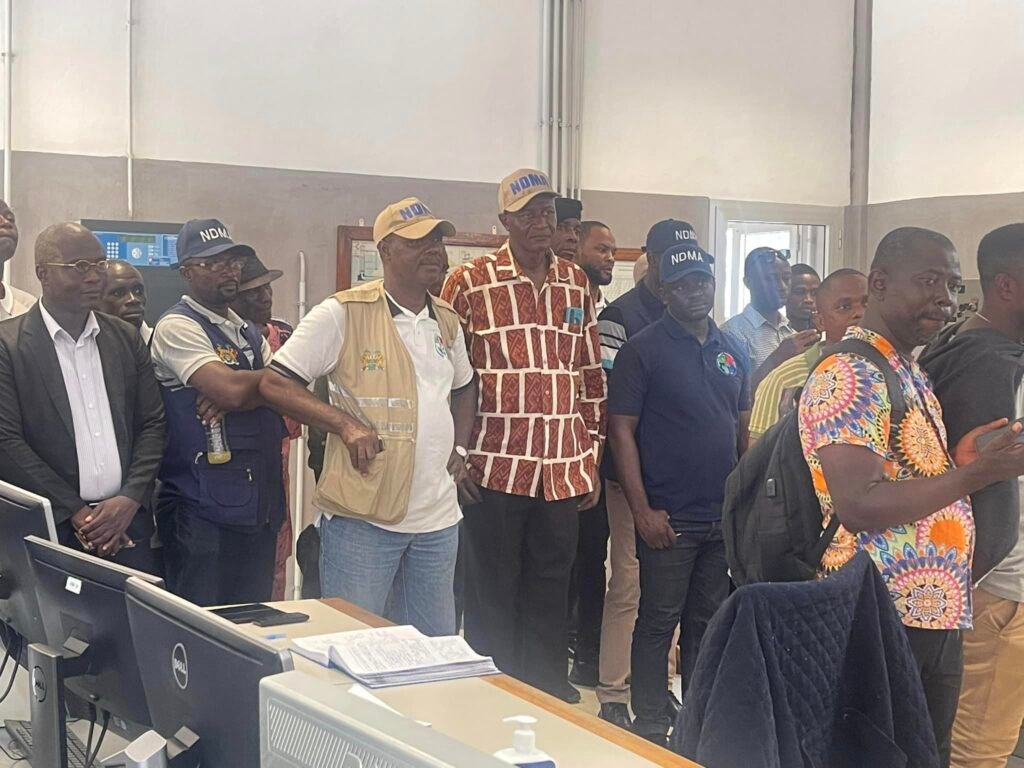 Team Lead for BWMA, Mrs. Hawa Kandeh noted that there are no effective early warning systems, and that they rely on their own ad-hoc arrangements for alerting communities in the event of an emergency.
"We have safety committees in all the 62 villages/communities around the Bumbuna Township that we use to send alerts. We also have drivers we sometimes use to disseminate messages across. Years back, we were using the community radio station, but it's none existent now.

"So, the need for a state-of-the-art Early Warning System cannot be overemphasized. Lastly, the community leaders have been playing a significant role in the identification and execution of our Early Warning Systems", she said.

NDMA's Chief of Corporate Services, Kai Banya, Director of Relief and Response, Sinneh Mansaray, Director of Risk Reduction & Preparedness, Thomas Lebbie, Director of Communications, Mohamed L. Bah and other NDMA staff facilitated the exercise with support from the RUSLP team members.

The Bumbuna hydroelectric power plant is a 50MW run-of-river hydroelectric infrastructure consisting of 88 m-high and 400 m-long rock-fill dams and a surface power house equipped with two 25MW Francis Turbines. It is valued at $327m. The government of Sierra Leone owns the plant and has been in operation since 2009.