Freetown, Monday, January 23rd, 2023 – The National Disaster Management Agency (NDMA), through its Directorate of Relief and Response has responded to the Wilberforce fire victims by providing temporary shelter to 37 households affected by a fire incident which occurred on the 20th of January 2023.
Although the cause of the blaze is yet to be determined, it affected a total population of 142; destroying 2 large buildings which used to house the affected military personnel and their family members. The inferno also destroyed property worth thousands of Leones.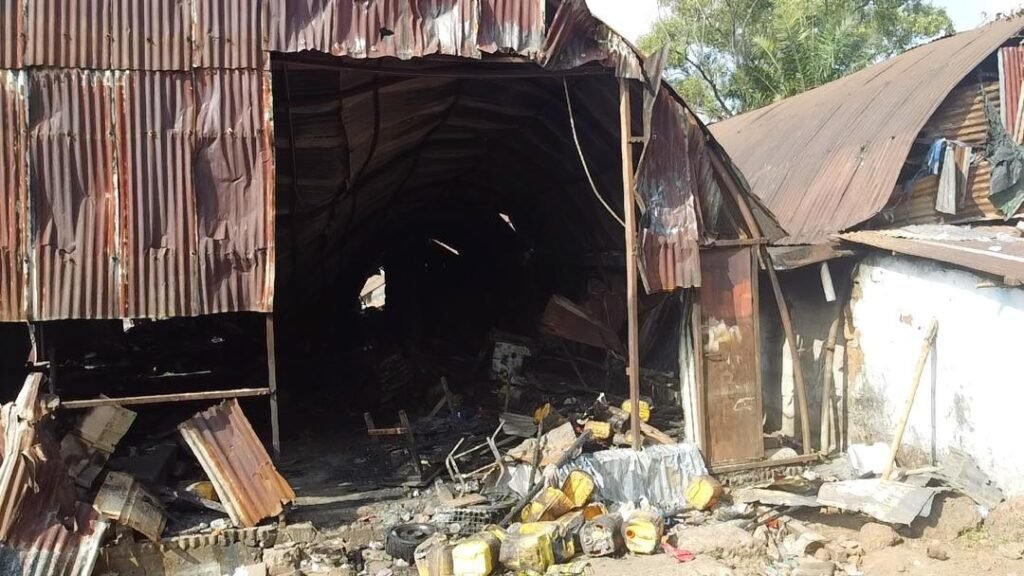 Due to the prompt intervention of the National Fire Force (NFF) and the specialized involvement of the military personnel with support from onlookers, the inferno was curtailed within the shortest possible time. Thankfully, no casualty or major injury was recorded.
Immediately after the incident, the NDMA Director General, Lt. Gen. (RTD) Brima B. Sesay and other directors of the NDMA visited the scene to conduct a needs assessment and sympathize with the victims. The DG stated that the Republic of Sierra Leone Armed Forces (RSLAF) has experienced three (3) fire incidents within Freetown in less than 21 days. He also reiterated the important role the military has played in responding to emergencies and generally helping the NDMA in managing disasters, and the vital role they are playing in ensuring peace and security in the country.
The DG said: "Whilst most of the affected soldiers were strategically deployed to carry out their duties which is to maintain the peace and harmony of the state; ensure a safe environment for all by guarding our borders; and assist with disaster management, their families (wives and children) had to endure the grief and impact of the devastating fire. We will provide the necessary support to cushion the impact on them." He added.
Since the establishment of the NDMA, the RSLAF has been instrumental in helping the NDMA with its relief and response work and disaster risk reduction activities. They've played a pivotal role in NDMA's flood mitigation exercises, logistics and the provision of adequate security.
In addition to the tents, and in accordance with the International emergency response procedure, the NDMA was able to provide a 50kg bag of rice and 20 litres of vegetable cooking oil to each of the 37 affected households. The response also ensured the provision of 37 mosquito tents, 74 foam mattresses, 37 veronica buckets, and 37 jerry cans. These items were donated by the IOM through Jica for the 2017 mudslide victims.
Lt. Col. H. Robin, 5th Battalion Commander, said an investigation committee has been established to look into the circumstances that led to the fire outbreak and appropriate measures will be put in place to prevent reoccurrence. He thanked the NDMA for their prompt intervention.